The Custodial Review spoke to Alex Viccars, Senior Research Officer at The Forward Trust, about the work the organising does to tackle substance addiction in prisons – including female prison HMP Send…
The Forward Trust (formerly RAPt) has been empowering people to break the cycles of addiction and crime and move forward with their lives for over 25 years. We currently deliver substance misuse services in 18 UK prisons and two community services, reaching over 15,000 service users each year. Peer role modelling and lived experience of crime and addiction sit at the heart of our treatment approach – with 1 peer supporter employed for every 4 staff members, and 30% of our workforce are in recovery from addiction.
Transformation change for female offenders:
The Forward Trust deliver the substance misuse services at HMP Send – a closed female training prison located in Surrey. In response to an external service evaluation, a new treatment model was introduced to increase accessibility of treatment and explore whether a flexible, needs-led model of support would improve treatment outcomes for female prisoners. The model consisted of 4 levels of engagement: Risk management; Building motivation; Abstinence based interventions; Relapse prevention.
The model was presented to service users using The Forward Trust's Theory of Change (Figure 1) – a motivational pathway of progression in which individuals can identify where in their treatment journey they are and know what to expect from the different stages of treatment.
Figure 1: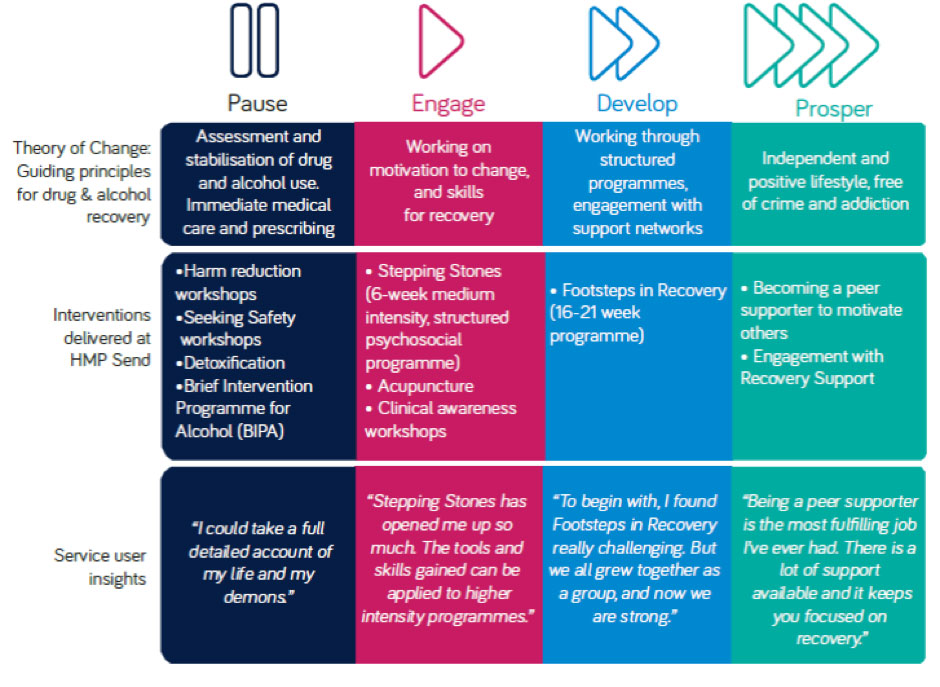 Treatment outcomes:
Women engaging with Footsteps in Recovery and Stepping Stones (delivered in the 'engage' and 'develop' levels of our Theory of Change) showed the following improvements on programme completion following the introduction of the new service model at HMP Send:
1. Significant improvements treatment engagement, with a 25% increase in completion rates for Footsteps in Recovery as well as:
• 120% increase in the number of clients completing a clinical detox
• 88% decrease in the number of missed healthcare appointments
• 27% increase in clients accessing community treatment upon release
2. Significant improvements in a number of measures linked to reduced risk of relapse and reoffending:
• Significant increase in motivation: shifting from the 'pre-contemplation' phase in the cycle of change to the 'contemplation' and 'action' phases.
• Significant increase in ability to abstain from using drugs and alcohol in triggering situations.
• Significant improvement in social problem solving skills, linked to positive emotional management skills.
• Significant improvement in attitudes towards crime: increased empathy for victims of crime; crime viewed as less favourable and worthwhile; lower anticipation of reoffending.
These findings show that a flexible, staged approach to prison-based substance misuse support can prepare women for intensive treatment, meet their needs more effectively and lead to improved treatment outcomes. These outcomes are evident both inside prison and on release, with 27% more clients accessing community treatment upon release after the introduction of the new treatment model.
Future developments and recommendations:
In response to this service evaluation, and service user and staff feedback, we will continue to improve the services we provide to female offenders by:
• Delivering specialist trauma training to frontline staff at HMP Send, imbedding trauma informed approaches in treatment delivery.
• Aiding treatment continuity for women who are transferred between prisons by looking to implement this four-level treatment model in our other female establishments (HMP East Sutton Park & HMP Downview).
• Running a monthly graduate support group at HMP Send, to provide ongoing support following treatment completion.
• Seeking to increase the complementary therapies we offer (e.g. mindfulness, acupuncture) to support a holistic recovery approach.
• Further evidencing the impact of our structured psychosocial programme for women. Completers of our male structured psychosocial programme, the Substance Dependency Treatment Programme (SDTP), show an 18% reduction in reconviction rates within one year, we will seek to evidence the reoffending impact for our female programme Footsteps in Recovery.
Case study:
"I was born an addict and I can honestly say that Forward has saved my life. I'd been in and out of prison for years and had heard about RAPt from my fellow inmates. I wrote to the manager at HMP Send and was accepted onto the programme. I completed the RAPt prison programme in 2008 at HMP Send and was released in 2014.
"Since then, I've opened my own business and become a mother. Forward has given me more opportunities than I ever could have imagined and they are still here for me, still supporting me."
Lacie, former service user at HMP Send.
To find out more about The Forward Trust and its programmes and services, please contact Hattie Moyes, Research Manager Hattie.moyes@forwardtrust.org.uk / 020 3752 5611.
1 135 women who engaged with the 'Levels' model from 01.09.16 to 31.08.17 were compared with 138 women accessing treatment in the 12 months prior.
2 Kopak, Dean, Proctor, Miller & Hoffmann (2014). Effectiveness of the Rehabilitation for Addicted Prisoners Trust (RAPt) programme
Related articles: 
Step Out Stay Out – Rehabilitating prisoners using the beautiful game
'Unravelling the effects of institutionalisation is a challenge'
From cells to speeches – how former inmate Gethin Jones has been Unlocking Potential within prisons
RIFT Social Enterprise – accountancy advice for prisoners