paragraph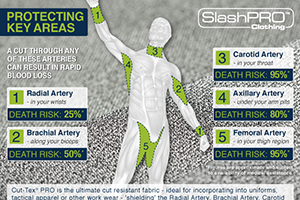 UK based PPSS Group have created a new range of wearable and high effective clothing offering exceptional levels of cut protection.  Made 100% out of the highly acclaimed high performance cut resistant fabric Cut-Tex PRO, these new garments are already making a significant difference to the safety and security of prison and correctional officers worldwide.
SlashPRO Slash Resistant Clothing is offering extremely high levels of cut protection to the most vulnerable areas, to which common body armour do not offer any protection at all.
To hold a shield, baton, pepper spray or CS gas, the muscles of your forearm will contract, and they will pull on the flexor tendons.  These tendons pass through the wrist and are attached to the fingers. If a prisoner cuts the tendons or the muscles that power them, the officer's hand will no longer be able to hold the object. Slash resistant clothing can effectively prevent such injury and keep the officer injury free and alive.