Technology company Unilink has signed a contract with the One3One Solutions, the commercial arm of Prison Industries part of the Ministry of Justice to open the first kiosk assembly workshop in a British prison.
Prisoners are building interactive kiosks for other prisoners to use. 
"My role is to link commercial companies with the prison estate and encourage collaboration. It is challenging at times, but very rewarding as there are only winners at the end of it", says Lance Harris, Commercial Business Manager at ONE3ONE Solutions, Directorate of Rehabilitation and Assurance at HMPPS (MoJ).
"There are multiple workshops across the prison estate engaged in engineering, woodwork, clothing & textiles, printing, injection moulding, contract services, recycling and call centres. Engaging offenders in employment, while they are serving their sentences, is actually part of the rehabilitation process. When prisoners go into prison for a first time, they have an induction, where they are also asked about their education, skills and work experience. Where there are gaps, offenders are enrolled into an appropriate educational programme or a work placement where they work on their vocational training or work skills, while also gaining qualifications. Working equips them with skills that will be very beneficial for them on release and will help them secure a job and integrate back into society."
"Setting up the kiosk assembly workshop in HMP Littlehey was an easy choice", explains Lance Harris.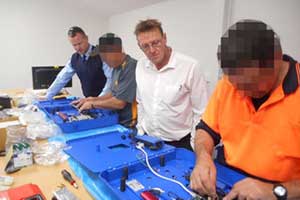 "This is a category C prison, that holds convicted male prisoners for mid to long-term sentences. The establishment has a very well-equipped workshop facility and prides itself on the intricate electrical work that it has been producing for years for private companies. The offenders here normally have previous work experiences, the majority of them have been in employment and have the required work ethic."
Unilink's kiosks are installed on prison wings in 26 prisons in England and Wales. They replace outdated paper systems.  Prisoners log on to the kiosk using their fingerprint and can submit requests to staff and receive responses, check their account balances, order their menu, shop, arrange visits and access FAQs amongst other things. This frees prison officers' time from the administration and gives more responsibility to the prisoners to deal with the things that matter most to them. 
The kiosks themselves can be wall or floor mounted and have been specifically designed for high security environments. The touch screens are resistant to attack, flames, water; and the metal cases have no ligature points.
"Manufacturing the consoles is very intricate work. The prisoners enjoy doing it and they find it rewarding."
It all started with a trial. Six prisoners volunteered to try the assembling. They all received over 25 hours of training. At the end of the trial five kiosks were manufactured, meeting all necessary quality requirements.
During the final inspection, the team from Unilink concluded that work appeared of good quality, consistent and met the Specification.
 "We were greeted by friendly and welcoming smiles. All the prisoners involved in assembling the kiosks were quite eager to show us their work and they expressed willingness to do more", shares Unilink's Production Manager Varneet Shukla.
One of the offenders said:
"Working with these units keeps our mind away from where we are".
Another one stated:
"Give us more. We are now hooked on to these".
It is true – they find meaning at this work, they are proud that something useful comes out of their efforts and they want more.
"They feel as a part of a real factory, they gain not only knowledge on manufacturing but also the very useful skill to work in a team, to be prompt, disciplined and responsible", adds Lance.
"The benefit for the prisoners will go a step further as the work will attract certification from an accredited body which will test their knowledge and provide an equivalent qualification. We want to upskill them, we want to give them a better chance to stay away from crime – this will reduce reoffending and the number of victims".
With the demand growing, Unilink will be able to provide employment to more prisoners and possibly to extend to another workshop in a female prison. The offenders work around six hours a day and are getting paid a weekly wage in line with the prison policy. The biggest reward however is the skills they are gaining and the feeling of meaningfulness that their time behind bars is not wasted.
Unilink operates another small kiosk assembly workshop in Adelaide, Australia. The feedback from both the inmates and staff there is very positive and the demand for new orders is constantly growing.  
About Unilink
Unilink, the world leader in prisoner self-service, offender management and inmate communications, has been working within the justice sector for over a decade. Our prisoner self-service and offender management software have been helping prisons run safer and more efficiently for years. All privately operated establishments in UK use it. We know that our systems make running of the prisons better, reduce the paper handling, speed up the processes, frees prison officer's time and enhances security. Independent academic research by the University of York showed that the software contributes towards rehabilitation and reduces the chances of reoffending. We are proud of what we do, but we always wanted to do more, to contribute more. Working with prisons is a challenging business, but it is unique because it is also a mission. Our mission is to help – the prison's staff, but also the prisoners and the society. We have been looking into a way to "close the circle" for a while and we are very pleased that this moment finally came.
Unilink's kiosks are designed and manufactured at Acante Solutions, subsidiary to Unilink, based in Reading. The company has been producing the robust consoles for over 10 years. They are implemented at prisons all across UK and Australia, successfully running the prisoner self-service and offender management software. Now those kiosks will also be assembled behind bars, by prisoners, providing them with employment, new skills and a way to earn a salary.
For more information about ONE3ONE Solutions please click here