By Steve Mitchell and Wendy Hewitt
Janine McDowell joined the Prison Service as an officer on an accelerated promotion scheme and subsequently worked in the public sector for 12 years. After the two years she moved from being a prison officer into increasingly senior operational roles. Her last public sector role was Deputy Governor of Feltham YOI. She joined Sodexo in 2001 and was the Director for HMP Bronzefield when it opened in 2004.
Though her career started in the public sector, the opportunity to open HMP Bronzefield saw Janine move to the private sector working with Sodexo. Janine was at HMP Bronzefield for five years, mobilising and establishing it from a green field site to full operation and was then offered the role of Director of Operations for Sodexo Justice Services. This made her responsible for all four prisons managed by Sodexo, which increased to five in 2013. 
In 2016, Sodexo took ownership of six community rehabilitation companies as part of the Government's Transforming Rehabilitation reforms. Later that year Janine became the CEO of Sodexo Justice Services.
Sodexo have introduced a new approach to how they attract and select their new recruits, and we asked Janine about the changes.
Custodial Review (CR): Recruitment of prison staff is known to be a real problem. What was the problem at Sodexo that meant you had to bring in a new approach?
Janine McDowell (JM): Our prisons are quite dispersed across the country and we had different challenges at different sites, our recruitment and retention experience is different at each location. The challenges are around attracting the right people, and also in keeping the talent in our business. While these vary across our prisons there are a few common themes.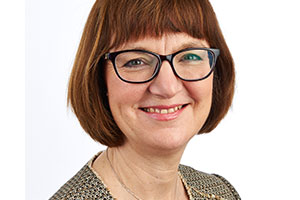 Nationally, unemployment levels are at record lows and we are competing to find talent in an employment market that is very buoyant. The Prison Service has had relentlessly negative publicity about the conditions, the working environment and the levels of violence in prisons. We're not immune to the fallout from that, as someone who is not part of the industry wouldn't necessarily make the distinction between providers of prisons. 
If someone is new to the prison environment they can quickly find it is not for them. There is a challenge in finding the right people with the right skills and values – essentially they need to be 'people people'. We tend to find as a result that with the right development our people become very attractive to other employers!
We have also been through a period of expansion. At Peterborough Prison, we expanded the prison, built new house blocks and therefore needed large numbers of new staff. It almost created a start-up scenario which can be very demanding: lots of new people in a very challenging environment against the backdrop of an area where there were lots of choices in employment. This led to higher attrition levels than we wanted and led us to question whether we were attracting the right people in the right way.
CR: Were qualification requirements an issue, were your benchmarks too high?
JM: No. People need to have the right level of communication skills. The biggest challenge is finding people with a really people-focused skillset, with an ability to interact with their fellow human beings.
Finding fantastic people
CR: After identifying the problem, what did Sodexo do about it?
JM: We decided to revisit how we attract and select the right candidates, and so looked at who are our custody officer 'stars' are. 
We went back and looked at what the core skills and innate qualities were among the existing talent in our teams and then we went out into the labour market to look for and attract people with those core qualities. 
We have been successful in the past in finding fantastic people, but we've also recognised we have been bringing people into a team which, for their own reasons or for ours, has not turned out to be in the right environment for them. We wanted to be better and clearer about who are the right people for our environment and what we are trying to achieve and deliver, and then go out and find those people. 
CR: I understand that through this you filter out those likely to be in the higher 'burn rate' category. How have you gone about finding this set of qualities?
JM: We have been using our own people to tell stories and using those to attract potential PCOs with whom that story resonates well. Our resourcing team have been using different ways of advertising to reach out using different platforms to look for the right people, and really personalising it. We bring it to life much more by using blogs, profiles, and short videos.
CR: Do you use newspapers, radio, TV or the black art of social media?
JM: All of those things. It is much more around understanding the profile of those we want and then appealing to those people. The resourcing team target forums or platforms where the people we are after are looking for a career. 
CR: Is it really that much of a massive change? Haven't organisations always been looking for the right person?
JM: I think this is an evolution of a more sophisticated way of looking for the right people. Anecdotally, the feedback I am getting suggests that the right people are often different from the type we have been attracting in the past, readier for the environment, and perhaps have probably thought more about where they will be working.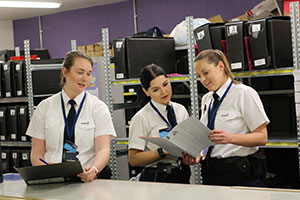 'The people we're now attracting are different'
CR: You have been using these systems at all your sites? What are the results? 
JM: The anecdotal feedback we've had, in the early initial training period, is that people we are now attracting are different. They are more akin to what we have identified as the kind of PCOs we value and recognise as already being stable members of our teams. It's early days but yes, we are finding these people, yes we are recruiting them. But it is too early to say what effect it is having on attrition. 
CR: What about keeping the people you already have?
JM: That is about how good our engagement strategy is, development opportunities, and the environment people work in. When people believe in what we are trying to achieve, about changing lives for the better and helping the residents we look after find a different way of living their lives, those people will stay with us for a long time. 
Our responsibility is to help people develop their career. That's how we seek to attract and then go on to retain the people. People can have very varied careers in our prisons. They can join as a PCO and even stay as a PCO for a very considerable period of time and have undertaken a real variety of roles. We can have someone join as a PCO and develop some real skills around interacting with people and then move onto things that require a different skillset, anger management, substance misuse issues, a whole variety of things. We retain the talent in our business by allowing people to flourish, develop, grow, either through promotion, through a line, or through specialising or just broaden their experience base. The variety of opportunities in a prison are beyond what most people outside that environment would believe. 
'The role of prison officer is about people skills'
CR: The public image of a prison officer is very much Officers McKay and Barraclough, all taken from the TV series Porridge. The ex-sergeant major who leaves the services and goes into the prison services – my father in law was one of them. A great TV programme but it did the Service no favours. This has created a public image that a prison officer is from a certain type of mould and certainly not that of a social worker. How are you trying to change the image of what a prison officer is?
JM: I agree – the name 'prison officer' conjures up just what you have described. The reality couldn't be further from the truth. The variety of people that work in a prison environment is huge. The role is about about their people skills, who they are, their backgrounds and what they can bring to the role. In terms of moving away from the stereotype of a prison officer it's about how we can get that message out there, what ambassadors we have among our existing staff whose career story makes people take a second look. That's why we profile people who don't fit that mould.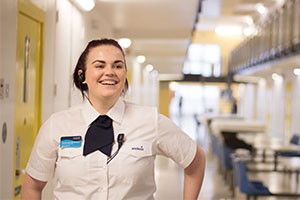 That isn't to say that there is no room in the team for those who have a forces background or a retail background, or any other background, it's about people with people skills.
Prison teams can be incredibly diverse from very different walks of life and backgrounds, but what they have in common is the sense of what we are trying to achieve. It is about our values and seeking to support the residents we are looking after on their change journey, and I think it is a case of using our teams to be ambassadors for the role they undertake is the strongest method we've got for breaking down those views people perceive. This is even within Sodexo as a whole where large numbers of people don't have direct experiences of prisons either. Being able to promote the fantastic people we've got within our own internal communications and recognition is really important too.
CR: Thank you for talking to the Review.
For more information on Sodexo, see the website.