Andy Robertson, an escape artist whose specialty is escaping from locked prison cells, offers an insight into getting out of "impossible" situations…
Prison escapes in the UK are rare – but then how have so many prisoners over the years escaped out of seemingly high-security prisons all from the UK and other parts of the world? That's the question that intrigued me, I had to know how they were getting out and whether it was by flaws in security, or skill, or just plain luck! 
Over many years I studied locks and doors used as well as the old and modern type prison and jail buildings. I spoke to many people from prison historians to those who were presently in the profession linked to prison security.  I also learned the skills and knowledge as an escape artist over many years from fellow escape artists, finally in 2017 I had the ability to escape any prison and I was soon to be challenged to prove it.
I was challenged by Rebecca Taylor, the daughter of the late David Deval. David was a master escape artist from the UK who discovered the secrets of Harry Houdini's many jail escapes. Rebecca challenged me to undertake a modern cell escape under strict test conditions, as I had also had her now her father's escape knowledge – and Houdini's! I accepted the challenge accepted under one condition – that it be witnessed not only by her but many others.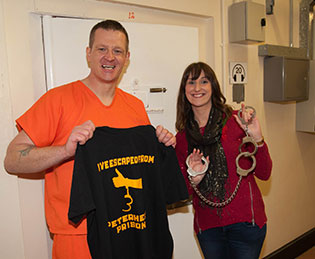 On October 2017 I undertook what for many is an impossible challenge to escape from a modern jail cell under test conditions to prove I could escape without any assistance or help. The escape attempt was to be at Peterhead Prison which is in north east Scotland. Now as law states in the UK, you cannot use a "live" prison or jail etc for any public stunts or such like. Thankfully Peterhead Prison had not long closed, but it was opened as a museum and it was the same as it was the day it closed, only no prisoners. It was the perfect venue.
The event was to be filmed live by STV (Scottish Television) which they did and members of the public would attend adding further pressure. The entire cell was searched by the public and those in attendance. I was fully strip searched and medically checked before I was then handcuffed and ankle cuffed by restraints that had been checked by a master locksmith in attendance, and the cell door slammed shut. The door automatically locked with the huge 4L series Chubb Custodial lock that was fitted to the door on the outside. The cell I was called the "Green Room" this was cell number 12 known as the suicide watch cell. I had agreed a maximum of 30 minutes to escape. I escaped the cell and restraints in 8 minutes and 12 seconds and proved it's possible even under the most seemingly strict of security conditions.
So how can prison escapes be prevented or reduced, linking in with what I know and have learned? I can not divulge the methods of my escapes or others due to my professional code of ethics and legality aspects or there would be prisoners escaping from all over the country, but there are several factors which I see as having a huge impact on making what I can do harder or impossible for real prison and prison cell escapes to happen or occur as well as even be attempted.
ENVIRONMENT
There are so many different environmental factors that would for me make a prison escape more complex and challenging. UK prisons are secure; they work and work well. What you read about escapes often do not refer to them having actually escaped from inside the prison, like many newspaper headlines will lead you to believe. A huge factor in prevention of escapes from the prison is when transfers to hospital and day release etc are undertaken. The prisoners are then out of the secure prison environment and no longer then secure in a purpose build building. This factor this is a real opportunity when a prisoner is transferred outside the prison, they are now mobile and even high security procedures in place can then be compromised as soon as the environment changes.
Cell windows, walls, ceilings, and floors are all very well secure and normally impenetrable but still means of a cell escape; I have seen in very old jails (Jedbrough Scotland) the rotten metal window bars still as strong and sturdy despite years of weather and decay.  Big factor with trying to go through a wall, floor, or window is the huge amount of time it would take, time makes it more complex and harder to escape any cell – as well as the noise it makes.  So in my opinion, making the prison cell have triple locked doors like as in "Black Dolphin" Russian prison is for me one of the best security features. The "Black Dolphin" cells have two internally locked, barred gate doors behind the main cell door (which is also padlocked along with main door lock). Simple but effective – it not only makes it harder for prisoners escaping but prevents them getting to the first door allowing staff to enter with little risk of them getting out past them.
There is also a window in the cell at Black Dolphin which is further restricted by a locked barred gate. One factor which makes escapes harder is what they have done to the barred windows in Norway prisons in the past – they were so high up, you could not see out or even reach them.
Lighting, as simple as it sounds, is vital – I must be able to see what I am doing when involved in an escape attempt. If I can't see properly then I can't easily undertake the physical and mental tasks it involves. This actually came into place when the overhead cell light at Peterhead escape had a night-dim feature, which was activated when the escape began. I had not prepared for this! It cost me valuable time because it was so dim it was barley as if it was on at all. No doubt the bulb and light cover had deteriorated, adding to the lack of light. As an escape artist I prepare as much as possible but this was one of the things I couldn't predict. The unexpected makes it harder.
Prison security is not just to keep people in – it's also to keep people out!  As an escape artist I could just as easily get into a prison as well as out of one so this can often be a factor overlooked. There are two basic things that would further complex an escape attempt from getting out and in – as basic as it sounds, having very high walls is vital and if the prison is built on an island. Examples are "Alcatraz", probably the most well-known USA island prison, as well one closer to home, "Parkhurst" on the Isle of Wight.  Some walls in prisons are actually not high as you might think, which has led to many prisoners getting over them. One that springs to mind was a ladder made of rope and knitting needles that former British spy George Blake used to escape over a wall from Wormwood Scrubs in 1966.
EQUIPMENT: LOCKS AND KEYS
The more doors you have to try get out the harder it is this includes corridor doors all with pass locks.  You can't have enough barred corridors gate doors. I look at this first in any escape if I'm out then how many other doors do I have to get past. Older Prisons and Jails have wooden doors, some have been upgraded with rear metal plate fitted to the inside of the door so it can't be chipped or split causing damage to access lock from inside. One instance was prison doors I obtained for my own collection and later donated to the Lanarkshire Police historical society. They were solid wood and the locks (Old Charles Smith Type Locks) had been removed but they had only been secured in with four large screws. So ensuring door locks are in fact secure and able to take a lot of physical abuse is important screws won't do it in modern times.
This is a factor not to overlook. Don't assume the door lock is secure and not effected. All locks should not be accessible from inside the door this includes any fixtures that hold it in place. You would be surprised at the amount of badly fitted locks that are fitted. One example was in 2016 when Douglas Police Station was being closed and renovated into flats . I was speaking to the contractors who showed me the 4L series Chubb custodial lock complete with rear back plate and the proper fitting bolts that had been taken of the main jail cell door intact. It had transpired that whoever had fitted the lock all these years ago had failed to then remove the top part of the bolts once fitted  to make it impossible to remove the lock, The contractors had simply unscrewed the five lock bolts with pliers! so it shows how an opportunity can arise and could have easily been exploited.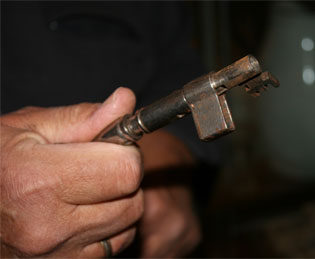 Keys, these are the main access to every part of the prison. If there lost huge implications if lost or access by those unauthorised " Prison keys have been lost or taken out of jails by accident more than 200 times since 2010" (BBC News Article).  To prevent copying of a key is the most vital part of security, One rule I standby is if you can see the key you can copy it to use.  Example of this was prisoner "Mark DeFriest" who was able to memorise any key on an officers belt and replicate it!
All it takes is some time and tools and skill so how best can you stop this.  In discussion with Jail and prison historian "Knut Even Isaken" who is from Norway he showed me how he had obtained obsolete prison keys with a unique security feature. The key bit has a spring cover that allows it to be inserted into the key hole and this then retracts allowing the key to turn the lock. When it's removed the cover springs shut again so no opportunity to see the key.  Simple and effective and could be adapted to any key.
It's easy to overlook key security even experienced staff can un intentionally give scope for this. A personal example was in 2016 when I had the opportunity to visit a live jail in Scotland as part of the "Doors Open Day" where you can visit places not normally open to the public.  I visited  HMP Greenock  and it was an eye opener for sure I visited on the day of an old firm football  match where there was a lot of noise and shouting so lots of distractions. I was able see what type of keys were used especially the door pass lock type which for me was easily identifiable by the unique way the end is manufactured.
Most prison door locks are very secure. They work well and are designed to last years and many do. They are not only designed to take a sustained brute force attack but there components and locking design means they need little maintenance or repair due to failure.  However if I have to I can bypass most CHUBB and other Custodial locks if the need arises – it's not easy but it's possible.
EXPLOITATIONS AND FLAWS
This is the hidden knowledge to often aid getting out of a cell and prison which makes the impossible possible. Flaws exist which are then exploited to get out. Many door locks have integrated electrics to operate them from central or office locations. Personally in my view all mechanical operation only is the best security to avoid an escape. Electrics fail and although they can also give indication of door or lock activation / tampering they are one of the most increasing feature of modern prison security, and one that can be easily bypassed.
Many doors have back up manual operation in case of failure which is a good point but as an escape artist why waste time in trying to bypass a lock when you can just as easily exploit a door with an electric lock. The evidence for this remains in my mind where a county jail in the USA (Fulton County Jail) inmates were all able to pop open their cell doors with nothing but a bit of cardboard, they simply inserted this in between the sliding cell door when locked and up on to the latch and it simply activated the electronic release! This was further exploited by other prisoners who were able to insert soap and pieces of a draught board game into the door frame to prevent it locking. An amazing simple exploitation of a flaw found in outdated security cell doors.
Best flaw I recall seeing was how prisoners have escaped out of food access panels in prison doors. These are normally very small and indeed any attempt to get out this way will lead to failure and getting stuck! Not so for some, who have successfully made their way out physically through food or prisoner observation viewpoints in cell doors. A Korean prisoner called "Choi Gap-bok" escaped from the bottom of his cell door in 2012, through a gap measuring just 15 x 45 cm.
RESTRAINTS
Handcuffs are the most common form of mobile restraint in prisons and jails and they work very well.  There is two factors to making it harder to escape from them.  1. Cuffing behind the back. This prevents not only being able to see them but restricts access to them. 2. Double locking them, pushing in the pin or similar type of look point to prevent them tightening on the wrists but further more prevents any shims being used to slide the cuffs open. Even more if the cuffs are a ridged type cuff further restricting wrist movement and discomfort.
Most prisoners are not left in cuffs in a cell but one factor that made my cell escape harder was that I was ankle cuffed. Being ankle cuffed greatly reduced your balance as it will cause the muscles to pull and tighten on the cuff hasp.
The Russian Black Dolphin prison is the ultimate prison for me it makes the chance of escaping near impossible. Its security is, to me, the best. Each cell has three doors you must access to get in, the barred window is behind a barred gate. Constant CCTV covers the entire cell. There are also light and motion detectors. Guards check through the cell view point every 15 minutes. Total isolation – no mixing with other prisoners except the one you share a cell with. All food is taken to cells and consumed in your cell no socialisation with anyone. Prisoners are exercised and blindfolded when going to and from the yard area. When out your cell, you are surrounded by three guards to each prisoner – and one is a dog handler. The cell is checked every day for any cell escape attempts as well as searched. No one has ever escaped from the Black Dolphin Prison.
The best way is to prevent escapes is to know all the methods that leads to the exploitation of the security and prevent them being used and when known change the security to prevent it being exploited.
Prison cell escapes are for some impossible, but impossible but to me is just another level of difficulty.
To see Andy's prison escape, watch this video.